Are you a LEAP therapist? We would love to hear your success stories! How has LEAP helped you professionally? Personally? Your family member or a LEAP client? Tell us your stories of encouragement — complete the form at the bottom of this page and we will be happy to post them.
Find even more LEAP Success Stories on our LEAP Pinterest board.  You can find the board by clicking here.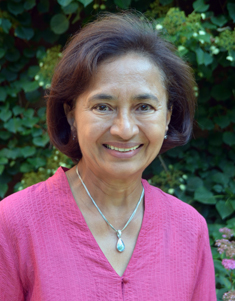 Submitted By: Gita Patel MS, RD, CDE, CLT

"About four years ago I developed high blood pressure. Since I am thin, athletic and eat a healthy diet, I was really surprised. Further tests showed I had adult onset Type 1 Diabetes, joining Psoriasis and Hypothyroid in the list of autoimmune conditions I was experiencing. Around the same time, I developed inflammation in both knees, frozen shoulder, stiffness and pain in my neck, swelling in my fingers, carpal tunnel symptoms in both hands, clicking in most joints, and severe pain in bottom of my heels, making walking very painful. It was possible that I had psoriatic arthritis, but I felt that all these symptoms must have an underlying cause. I also had severe headaches several times a week.

I had LEAP testing done, and found that many foods and chemicals were causing an inflammation response, which could explain the high blood pressure as well as the autoimmune attacks on my skin, thyroid and pancreas.

There was a long list of reactive foods and chemicals, including wheat, rice, corn, maple syrup, and some of my favorite fruits and vegetables. With Gita's guidance, I was able to develop recipes and menus helping me to avoid all of these foods for a full year. Almost immediately, I began to feel better. My blood pressure returned to normal and I was able to discontinue taking medication. Joint pain and headaches disappeared and the progression of autoimmune attacks was slowed. The next time I was tested, the thyroid antibodies had decreased to half and the islet cell antibodies were no longer detectable. I have since added back most of the foods, but continue to strictly avoid wheat, maple syrup and rice. I eat many raw and sprouted foods and follow a rotation diet, limiting my exposure to any borderline foods to once every three days. I am completely pain-free, with normal blood pressure: 110/70. I am able to manage my diabetes with very small amounts of insulin and am maintaining excellent blood sugar levels in the normal range.

LEAP testing, in conjunction with nutritional counseling from Gita Patel, has completely changed the quality of my life. It involved a major investment of time and energy and a dedicated commitment to following the program but was well worth the effort.-- Libby Curran
Gita Patel MS, RD, CDE, CLT
,
www.feedinghealth.com/home/services/testimonials/
Submitted By: Andrea Nero, RD, CLT

Hi Andrea,  I just wanted to thank you so much and to let you know that I have made wonderful progress in my overall health but especially with my GI issues. The MRT testing was something that I was always looking for but never knew it existed because it hadn't been recommended to me by a medical professional. As you know, I have suffered with allergies and poor digestion my entire life and was always told that I had to learn to live with the pain. It was shocking how many doctors told me I was just depressed or suffered with anxiety.Following the diet can be challenging but the benefits are nothing short of a miracle!! Thank you again for your understanding and care throughout my process.
Hugs, Olivia
Andrea Nero, RD, CLT
,
gourmetrd.com/
Submitted By: Kathy Kendell MS, RD

Written By: Christine St Pierre

At Rebecca Bitzer & Associates, we love to celebrate the success of our clients! Denise came to see Registered Dietitian Kathy Kendall for help identifying foods that were triggering the lifelong struggle she had been having with headaches, gas, stomach pain, constipation, exhaustion and sinus issues. After doing MRT food sensitivity testing and working with Kathy to implement dietary changes based on the results, Denise is feeling great! Read more about her story below:

What health or nutrition goals brought you in to see a dietitian?  I had health problems for years and I knew food was the main issue. I tried many different eating plans to help identify the problems, found some of the offending foods, but still did not feel well a lot of the time.

Sample LEAP Results
What changes have you implemented in your diet and lifestyle since beginning nutrition counseling?I have worked to avoid the red and yellow line foods identified through the LEAP testing and have noticed quite a change. Some foods on the red and yellow list were foods I ate frequently so it was no surprise why I rarely felt well. I have found I don't need a lot of supplements that I was taking trying to feel well that were supposed to be good for my blood type. I now just take a multivitamin every day and I feel great.

What changes and/or health benefits have you seen as a result?  I have almost eliminated the need for daily sinus medicine and Advil multiple times per day and I only need it when I can't resist a food on my 'no' list! I am enjoying feel well most of the time now- which is wonderful. I have more energy and am more fun to be around 🙂

What has been most helpful in your success? Having a list of foods that my body was reacting too is so helpful. It makes it easier to shop and eat out as well as make food at home.

Is there any specific information that you were taught from your dietitian that "hit home" or aided you in your journey?

I didn't know that a family of foods could cause reactions and how they all were related.

Any additional comments you would like to share:  I am so glad that this test is available and I was able to find out about it. I wish I had done it years ago-it would have saved me a lot of time feeling unwell.

Thanks, Denise, for sharing your story, and we are so glad that you are feeling great!  If you are struggling with health problems related to food sensitivities, contact us to set up an appointment with Kathy and get on the road to feeling better!
Kathy Kendell MS, RD
,
thehappyhealthygut.blogspot.com/2012/03/successful-client-alleviates-health.html
Please fill in the form below to submit your testimonial
Required fields are marked *